Crossword Report: April '07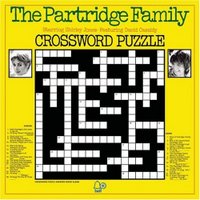 Moshi moshi!
I'm a couple days late here with my monthly crossword report, and my projected annual total has dropped a bit, both due to my Texas trip. But at the rate I'm going, solving 1,000 crosswords in '07 seems like a reachable, nicely rounded goal. So, in addition to meeting my original goal of doing all 365 daily
New York Times
puzzles, I'll need to do 635 others.
With 315 puzzles completed at the end of April, I was on a pace to solve 958 for the year. Doing 685 more to reach 1,000 means I'll need up my monthly average to 85.6 (or 2.8 per day) for the rest of the year... You got all that?
In April, besides solving crosswords from the usual sources, I've also done puzzles from various in-flight magazines and Texas newspapers. The best crossword of the month was the first: the
NY Times
offering on April Fool's Day had "ASS" hidden in seven places.
Crosswords in Pop Culture:
Crossword
LP by the Partridge Family (Bell, 1973). As you can see above, the album cover features an actual crossword. Click
here
for the track listing and other info.
Kicking and Screaming
(Trimark Pictures, 1995). Noah Baumbach wrote and directed this mid-'90s comedy about a bunch of overeducated New York slackers who sit around spewing Gen-X philosophy. Among them is the supremely lazy Max (Chris Eigeman), who does lots of crossword puzzles throughout. The film's 2006 Criterion DVD release featured a crossword in the packaging. The solution, containing quotes from the movie, is available
here
.
Crossword Report: January '07
Crossword Report: February '07
Crossword Report: March '07
Total crosswords solved in April 2007: 78
Total crosswords solved in 2007: 315
On pace to solve in 2007: 958