Crossword Report: March '07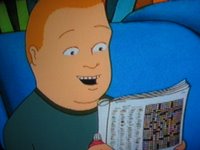 Bunny bunny!
This month I started doing the crosswords in the
New York Sun
, which rival the
New York Times puzzles
in terms of difficulty, cleverness, and overall quality. Best of all, they're free to download and print, provided it's done on the actual day each puzzle appears (the paper only publishes on weekdays, and there doesn't seem to be a crossword archive). Likewise, I've become a regular solver of the
USA Today puzzle
. Their online puzzles are also free, and they have a free two-week archive, and I like how each puzzle can be printed directly from the screen -- no downloading or
special software
necessary. Among crosswords I solved from various other sources last month were nine puzzles in my
Wordplay tie-in book
.
Crosswords in Pop Culture:
The Bob Newhart Show
(November 3, 1973).
After discovering wife Emily scored higher on an IQ test than he did, a frustrated Bob begins to notice her various "smart" traits, such as doing crosswords in pen rather than pencil... In real life,
Time
magazine reported that "Ginnie [Newhart's longtime wife] and Bob share a passion for crossword puzzles and spectator sports, and they have a deep mutual empathy."
Late Night with David Letterman
(February 1, 1986).
During a show filmed aboard an airborne 747, Dave offered his solution to the problem of finding the airline magazine's crossword already solved: "How many times have you picked up a copy of the in-flight magazine only to find that someone else has already done the crossword puzzle? What are you gonna do? You can throw up your hands and give up, or do what I do -- bring along a sheet of 'Blank Stick-on Squares.' After a few painstaking hours, the crossword will look like new." Letterman then asks his pal, the recently deceased
Larry "Bud" Melman
, who has just filled a crossword with the blank squares, how it worked for him: "I like it even better than doing the puzzle!"
King of the Hill
(April 16, 2000).
In "Meet the Propaniacs," we see Bobby and Connie sitting on the sofa, Bobby polishing Connie's toenails as she reads the
New York Times Magazine
. She asks, "Hey, do you wanna do the
New York Times
crossword puzzle? It's what New York couples do every Sunday." Bobby replies, "Like Tony Randall and his wife!"
Well, it's the first of the month, time to clean
Captain Bananas
' tank.
Bonus
Captain Bananas Fun Fact™
:
· His favorite TV show is
Sabado Gigante
.
See you in the funny pages.
Crossword Report: February '07
Crossword Report: January '07
Total crosswords solved in March 2007: 90
Total crosswords solved in 2007: 237
On pace to solve in 2007: 961