Captain Bananas Report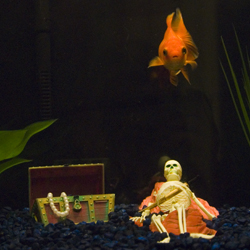 It was six months ago today that we brought home
Matt Hasselbeck and Captain Bananas
.
Matt didn't last a week
(we couldn't revive him with
Ick Clear Tank Buddies
), but Bananas is still with us. Eliza and I discussed replacing Matt with another fish (to be named
Seneca Wallace
, of course), but decided that since Bananas seems happy and healthy on his own, why rock the tank?
Captain Bananas Fun Facts™
· He's a
Ryukin
goldfish.
· His tank is decorated with dark blue rocks, three plastic plants, and a
Penn-Plax
treasure chest and "Action Skeleton."
· He usually eats
TetraFin Goldfish Flakes
, but also enjoys
TetraFin Goldfish Crisps
,
Hikari Oranda Gold pellets
, and
freeze-dried tubifex worms
. He also likes to gobble rocks and spit them back out.
· Around the first of each month, his tank gets a thorough cleaning: I stir up the rocks to loosen up the poop and stuff and I rinse off all the decorations. Then I replace the filter and about half the water, and finally I scrub the inside of the glass. His water's nitrate level is usually a safe 10-to-20 ppm, and I keep an eye on the pH level too, adding proper chemicals as necessary.
· One time I found him floating upside-down. Sometimes he seems bloated and, when not fighting to swim downward, he helplessly bobs to the surface. That one time I think he fell asleep while bloated and turned belly-up, but luckily I was there to waken him and snatch him back from the abyss. This concerns us, and we're not sure why it happens -- most likely it has to do with what we're feeding him (and/or how much), or the water's composition, or
global warming
.
· He has two theme songs: the first is sung to the tune of "Yes, We Have No Bananas": "Yes, it's Captain Bananas/ He is the best fish in the world!" The other one is set to the tune of "Frosty the Snowman": "Captain Bananas/ Is the best fish in the world!"
· I submitted a photo of his tank to the
TetraCare Aquarium Showcase
, but they haven't posted it yet (I'm guessing it'll appear someplace after #67, where they've been stalled for awhile).
Captain Bananas photo by Eliza Truitt Photography.