Estampilla de la Semana: HemisFair '68
I'll get to this week's stamp in a sec.
This morning I visited
South Congress Avenue
and
Mount Bonnell
before rolling beyond the Austin city limits on down to San Antone. My first stop was lunch at
Earl Abel's
, a decent strip-mall coffee shop where I sat next to a table of nuns (sadly though, its
original home
was razed just last year). My waiter asked me if I was heading downtown to party and warned me about the crowds and police, but assuring me "the cops are on your side, know what I mean?" I was confused, until he explained that the massive annual
Fiesta
is happening this weekend; I inferred the-cops-on-my-side comment meant they're racist. So I decided to steer clear of downtown, and thus my afternoon sightseeing plans were thwarted (though I did get to see
the world's largest shitkickers
).
Tonight I went to the local minor league ballgame, where the visiting
Midlands RockHounds
beat the
San Antonio Missions
1-0 before a crowd of 4,792.
Kazuhito Tadano
ruled on the mound, but the night's real stars were the mascots. Representing the Missions:
Ballapeño and Henry the Puffy Taco
('Peño strikes a pose here while hoisting the Whataburger flag; no comment on the "puffy taco"). If that wasn't enough, between innings the crowd was entertained by the traveling
ZOOperstars
, who were either totally brilliant or completely fucked.
Ken Girraf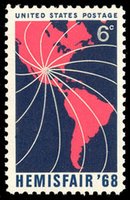 ey Jr.
and
Harry Canary
danced in unison to Pink's "Get the Party Started," and
Monkey Mantle
and
Nolan Rhino
led the crowd on "Y.M.C.A."
Cow Ripken Jr.
and
Mackerel Jordan
also appeared. I was disappointed not to see
Ichiroach
and
Clammy Sosa
.
So, the
estampilla de la semana
: San Antonio hosted
HemisFair '68
, a world's fair commemorated by this week's stamp. Hopefully I'll have more to tie in with this tomorrow... Vaya con dios.