I Tell You What
Saturday's first order of business was elevating to the observation deck atop the
Tower of the Americas
-- have I mentioned that I love observation decks? Though it was a cloudy, hazy morning, the view couldn't have been more perfect ('cause, um, San Antonio's not much to look at). The tower's top, shaped like a giant, upright
KFC bucket sign
, has a far more informative and attractive presentation than Dallas's stupid Reunion Tower, which I visited
Wednesday
. However, TOTA has this shitty "adult contemporary" blaring throughout -- imagine coping with Laura Brannigan's "Self Control" while meditating on Saint Anthony, 750 feet below.
I've always thought downtown's
River Walk
sounded dumb, and though it was indeed plenty touristy, it was actually pretty cool -- I dug how the filthy little canals wound through the urban core. On the other hand, there wasn't much to the nearby
Alamo
; its greatest asset is it's free. I breezed through in a few minutes and didn't take any pix (instead, here are the Stones on their '75 tour). The mission's next-best thing were the few
protesters
gathered outside -- a pretty cajones-y act in this conservative, religious, militarily heavy city... Overall, I found SA bland and depressing, and was plenty happy to move it on over to Houston.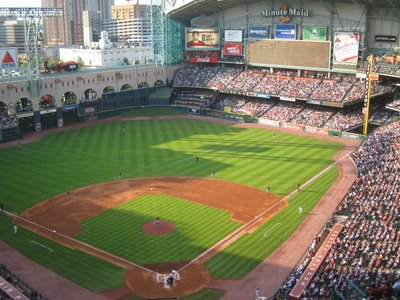 After a three-hour drive, during which I saw a road-killed armadillo, I witnessed the Astros clobber the Brewers 10-1 at the awesome
Minute Maid Park
. The contest brought my MLB-stadiums-I've-attended-a-game-at count to 19. However, I was seriously harangued by a gang of drunken 'Stros fans, as I was keeping score while wearing my Nationals tee and M's cap -- mismatched, I admit, but still!
I liked most everything about the venue -- way better than the Rangers ballpark -- but I was particularly enamored by the
grassy knoll
in center field, where the American flagpole is firmly planted in fair territory. Ichiro'll hafta deal with that when the M's visit in June.
So, like, I'm tempted to parody an overused cliché here, saying something like "Houston, I have a boner."
But I won't.