Postage Stamp of the Week: Love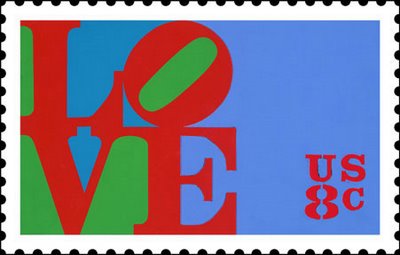 Last weekend in Vancouver I spotted a sculpture just like the one in
Philadelphia's LOVE Park
, except it was painted
blue and green
, the colors of the
Vancouver Canucks
.
Robert Indiana's famous design
first appeared on a greeting card in 1964 and then on this stamp in '73 before turning into the Philly sculpture in '76. A few years back while traveling through town I visited LOVE Park, where the Phillie Phanatic mock-stole my suitcase. He made up for it by posing for
this photo
.
The sculpture has apparently been franchised to other cities around the world, including Vancouver. There it sits on Georgia Street, just blocks from
Stanley Park
, site of this bitchin'
Elvis Costello video
.
What so funny 'bout peace, LOVE, and understanding?
Postage Stamp of the Week Update™:
Mariah Carey
recently unveiled a previous PSOTW, the one commemorating
jury duty
.