Football Helmets Galore!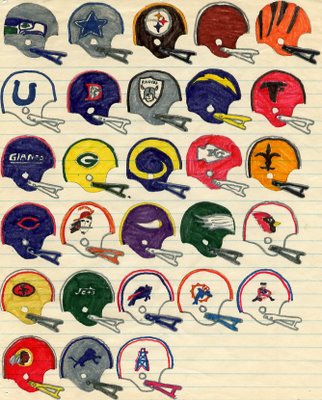 I recently found this thing I made as a kid while going through a box of old stuff. I figure I drew it sometime between 1981 (when the Bengals adopted the ugly tiger stripe helmet) and 1983 (before the Bills switched from white helmets to red ones). So, I'd be between 12 and 14. It's no accident that the Seahawks own the most prominent spot.
It may have been drawn in 1982, when the Oakland Raiders moved to Los Angeles, but before 1995, when the Raiders moved back to Oakland, the same year the Los Angles Rams relocated to St. Louis. (It seems insane that LA, an enormous global powerhouse with some 17 million people in the metro area, hasn't had an NFL team in over a decade.) This was also before the St. Louis Cardinals moved to Arizona, the Baltimore Colts moved to Indianapolis, and the Houston Oilers moved to Memphis to become the Tennessee Oilers, and then moved to Nashville to become the Tennessee Titans. It was also before the NFL expanded with four additional franchises: the Jacksonville Jaguars, the Carolina Panthers, the Houston Texans and the Cleveland Browns, a different Cleveland Browns than the franchise that moved to Baltimore and became the Ravens... Sheesh. I should draw an updated version. In the meantime, consult
this
.
Anyway, the NFL regular season officially begins -- that is, "kicks off" -- with Thursday's Saints-Colts game; the Seahawks open at home next Sunday against the Buccaneers.
The 12th Man is Stupid
™.