The Simpsons Take Seattle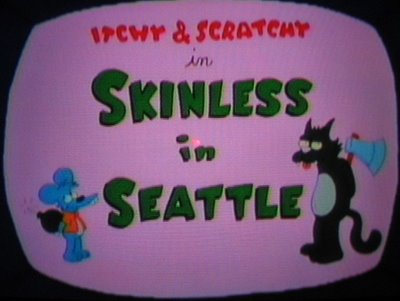 Seattle's a lot like Springfield: we both have a monorail, a revolving restaurant in the sky, and, for this month anyway, a
Kwik-E-Mart
(Eliza and I got Squishees there). Adding to the hype leading up to tomorrow's opening of
The Simpsons Movie
, here are all the Seattle-related references I know of among the show's 400 episodes thus far...
Lisa's Pony
(November 7, 1991).
When Homer takes the night shift at the Kwik-E-Mart to pay for pony for Lisa, there's a brief mention of
Seattle Slew
, the thoroughbred who won the Triple Crown in 1977... A bit of a stretch, but it still counts.
Lisa the Greek
(January 23, 1992).
Homer exploits Lisa's football prognostication skills for his own gambling habit. Homer: "Who do you like in the afternoon games?" Lisa: "Well, I like the 49ers because they're pure of heart, Seattle because they've got something to prove, and the Raiders because they always cheat"... Side note: When this episode aired, the
Seahawks
just wrapped a 7-9 season, and the following year, went 2-14 -- something to prove indeed.
Homer at the Bat
(February 20, 1992).
Then-Mariner superstar
Ken Griffey Jr.
is recruited with a bunch of other major-league stars to help Mr. Burns win a million-dollar bet over a softball game. However, Junior keeps swilling some sort of tonic, bringing on a case of gigantism that prevents him from playing... Side note:
Ken Levine
, who co-wrote the 1990 episode "Dancin' Homer" -- Homer becomes a baseball mascot with the help of the Capital City Goofball -- went on to join the Mariners broadcast team for a four-season stint beginning in '92.
Marge vs. the Monorail
(January 14, 1993).
Everybody's seen this episode like a million times and everybody here is sick of our own
monorail
woes -- enough said... Side note: Episode writer Conan O'Brien's wife is from Seattle, and they got married here in January 2002 at the
St. James Cathedral
.
Homie the Clown
(February 12, 1995).
Homer enrolls in Krusty's clown college. In the first class, Krusty tells his pupils, "Okay, memorize these funny place names: Walla Walla, Keokuk, Cucamonga, Seattle…" Homer laughs uproariously at "Seattle": "Stop it, you're killing me! A-ha-ha-ha, Seattle!!"... Side note: Krusty is believed to have been largely based on Seattle TV clown
J.P. Patches
, who had his own Krusty-like kiddie show here from 1958 to 1981.
Bart Sells His Soul
(October 8, 1995).
"Skinless in Seattle" is one of many classic "Itchy & Scratchy" mini-episodes. Scratchy stands at the Space Needle's base, lookin' for love (in his hands are a bouquet and a handwritten invitation: "Meet me at the Space Needle," with a heart drawn at its bottom). Itchy, having lured Scratchy to the Needle with the intent to kill him, drops a penny off the tower's top toward Scratchy, where it plunges deep into the ground just inches from the oblivious, lovelorn cat. The frustrated mouse then grabs a couple dozen mini Space Needle souvenir models and also drops them; they stab the ground like darts, forming a heart shape around Scratchy, who's touched by the inadvertent gesture of love. Finally, Itchy saws through the Space Needle's narrow mid-point, causing the top of the structure to topple and fall, its sharp antenna plunging into the cat's left eyeball... Side note: The
Space Needle
also serves as the basis of the Springfield Revolving Restaurant, where Principal Skinner takes Selma on a date. Skinner: "You know, food tastes better when you're revolving."
Das Bus
(February 15, 1998).
Bill Gates visits Evergreen Terrace to acquire Homer's online business, CompuGlobalHyperMegaNet. The nerdy yet bullying Gates -- not actually voiced by Gates -- commands his henchmen, "Buy him out, boys!", and they obediently smash up Homer's little dining-room office... Side note: Starbucks, another Seattle-based corporate giant, figures into jokes in other episodes, usually referring to how its ubiquitous coffee shops are quickly permeating the globe.
Bonfire of the Manatees
(September 11, 2005).
Homer gets involved in a football betting scam and winds up owing money to mobster Fat Tony. At one point, we see a final score flash on a TV screen: "Broncos 19, Seahawks 14." Boo... Side note: The unnamed football announcer heard in multiple episodes (catchphrase: "Whoa, doctor!") is based on
Keith Jackson
, longtime ABC college football announcer (catchphrase: "Whoa, Nellie!"). Jackson started out here before going national, including the play-by-play of Evel's August 20, 1974 jump in Toronto for
Wide World of Sports
.
So I'm excited about the movie -- I hope it amounts to more than an extended episode of the series, like many other TV-to-movie adaptations -- but I've increasingly felt over the last decade that, like this guy Steven:
The Simpsons should retire
.