Hot Hell Ghost Rod Rider Drivers
2007 is shaping up to be a banner year for movies featuring Evel-inspired characters. To wit:
Ghost Rider
.
A big-budget film based on the '70s
Marvel Comics
character, himself based on Evel. By day, motorcycle daredevil Johnny Blaze (Nicholas Cage) is the world's greatest stuntman; by night, due to a misguided deal with Satan, he becomes a badass, black-clad biker whose head turns into a flaming skull. The movie sucked on many levels, yet I couldn't help but dig it. I've since bought
this
, have had my eye on
this
, and come Halloween, I might be wearing
this
...
Official site
.

Ocean's Thirteen
.
In this third installment in Steven Soderbergh's caper franchise, Don Cheadle reprises his role as Basher Tarr. This time 'round, Tarr disguises himself as "Fender Roads," an Evel-style Las Vegas motorcycle daredevil with a red-white-and-blue jumpsuit and an American flag on his tooth. Or so I've read -- I haven't seen the movie myself, and have no immediate plans to...
Official site
.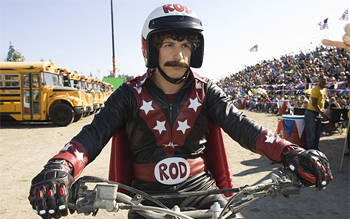 Hot Rod
.
Andy "Dick in a Box" Samberg plays amateur daredevil
Rod Kimble
, whose stunts fail to impress his father,
Ian "Cocksucker" McShane
. (Vaguely related note: whenever Samberg's goofy face appears on my TV screen, I always think of Dan Savage's remark: "
He could suck your dick sideways
.") The trailer promises references to
Gymkata
,
Project Grizzly and The Devil at Your Heels
, and uses AC/DC's "Thunderstruck" -- just like Mariner closer J.J. Putz! We plan on seeing this one upon its August 3rd release...
Official site
.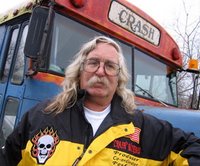 Hell Drivers: America's Original Crash Test Dummies
.
Last but not likely least is this upcoming documentary about stunt cyclists Doug Danger, Louis Re and "King Kong Knievel," as well as Crash Moreau and Rocky Hardcore, a couple of guys who specialize in smashing up garbage trucks, school buses and motorhomes (that's Crash in this here photo -- looking at his jacket, he apparently likes
Ghost Rider
too). Among those responsible is
Boston Herald blogger Darren Garnick
, who tipped me off to this project. Their
trailer
looks killer -- can't wait for the real deal.