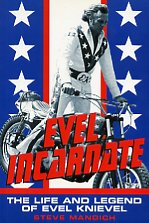 Evel Incarnate
The Life and Legend of Evel Knievel
My book, the definitive biography of the infamous 1970s motorcycle daredevil, is out of print at the moment, but reviews can be read at Amazon.com and Amazon.co.uk. For a sample, read the book's Introduction.
In 2004, Evel Incarnate was brought to the small screen by Icon Productions for Turner Network Television. The film was directed by John Badham (Saturday Night Fever), with George Eads (of TV's CSI) starring in the title role. Jaime Pressly (Karate Dog) co-starred as Knievel's wife Linda, and Beau Bridges (Village of the Giants) played Knievel's father-in-law. The made-for-cable movie, simply titled Evel Knievel, premiered on TNT on July 30, 2004, and was celebrated with a killer party. The film was released on DVD on August 5, 2005 -- buy from Amazon.com.