Evel Dead II
Evel's funeral
was an open-casket affair, so I got some pre-ceremony face time with his ten-day-old corpse. He was dressed in a white leather jacket, his visage wan and waxy. I also got a press pass, but arrived too late for the press conference featuring
Robert Schuller
,
Spanky Spangler
and
Joe Frazier
. Smokin' Joe was wheeled out in his chair just as I walked in; he playfully punched my thigh as we passed.
From my seat in the press area, the 7,500-seat
Civic Center
appeared two-thirds to halfway full. Seated in the front rows were Evel's family and longtime Butte pals, who served as pallbearers in their matching black leather "Evel" team jackets. Besides Evel's fans (mostly motorcyclists), the rest of the crowd appeared largely local. A few bored-looking teenagers sat by themselves in the back row, while
Matthew McConaughey
seemed to be the only reason a few starstruck girls showed up.
Schuller began the 90-minute ceremony with a prayer, then Evel's daughter Tracy read a bible passage and granddaughter Krysten sang "Amazing Grace." Son
Robbie
started his rambling eulogy by joking "I'm Minister Schuller," and reflected on how Evel would take young Robbie and brother Kelly on area fishing trips in his V-12 Ferrari at 100 mph.
McConaughey told how he and his older brother were inspired by Evel to jump their bikes over a barbed-wire fence when they were kids. He wasn't able to meet the press before the ceremony because his plane landed in Butte shortly before the proceedings began. Afterwards, he shunned the press to hit a local sports bar.
Otherwise, the themes of the other eulogies were heavy on
Evel's spring conversion
, with lots of applause most every time it was mentioned. Doug Wilson of ABC Sports said that Evel had recent phone chats about Jesus with Kathie Lee Gifford, and that Frank Gifford mailed Evel a copy of Christian apologist Lee Strobel's
The Case for Christ
.
Jumps for Jesus
minister Gene Sullivan said that Evel asked him to address the people at his funeral who' d been "Evel Knieveled," relaying, "I've offended a lot of people in my life. If I offended you, I'm sorry. Forgive me."
Former Montana governor Judy Martz, long-time friend and
Knievel Days
coordinator Bill Rundle, Evel's eldest son Kelly, and Evel's son-in-law Matt Vincent also spoke. Finally, Schuller delivered his own eulogy (which prompted a standing ovation) and closed with a prayer. Bagpipes played "Amazing Grace" as the pallbearers moved Evel's casket out of the building and into a hearse, which drove him via the
Evel Knievel Loop
to a private burial.
I was the only visitor I saw at Evel's grave the next day, less than 24 hours after he was put in the ground. He's buried next to his grandparents (who raised him, and whose joint headstone is in the foreground above), but a cemetery worker said the frozen ground was too hard to properly install his one-ton headstone. The grave is right across the street from the Wal-Mart where his ex-wife Linda works.
So I would've posted this sooner but I was otherwise busy poring over microfilm at the
Butte library
and digging through stuff at the public archives. From the police blotter I found this nugget, a May 9, 1956 arrest of 17-year-old Evel. From the police report: "We picked up Bob Knievel again for reckless driving. He was going as fast as his car could go out over Harrison Ave. He turned off his lights at Dewey, then went over to Oregon and almost to Cobban wide open and without lights. Knievel's grandfather took the automobile."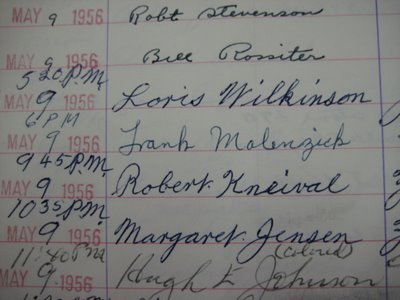 Interesting trip. Glad I went.