Evel Dead
I used the money I got for this
Slate obit
to finance a trip to Butte, Montana, where I am again tonight after my
visit
just last summer. Tomorrow is Evel Knievel's funeral, at a hockey arena where he used to motor his cycle around on the ice.
It's flattering how, in the past week, so many people have contacted me after hearing Evel died, though I often have to explain that it's not like I suffered any great personal loss. Of course, it's sad when most anyone dies, and with Evel it's no different. However, I'd feel sadder if the Mariners traded Ichiro away, or if our fish died, or if I lost my iPod (heaven forbid, on all counts). Still, I'll miss following Evel's ongoing exploits. He was, first and foremost, an entertainer, and he entertained me right up until the end. Besides his eleventh-hour
Kanye West summit
, he also had a
rollercoaster
in the works, and he just launched his new
social networking site
. Unfortunately, Evel has gone
offline
forever.
Anyway, since his passing, the Internets have produced a dizzying wealth of information--obituaries, remembrances, and blog posts, most of which inspiring exponential numbers of reader comments. An obit by columnist Adrian Ryan in
The Stranger
, combined with this
column
of his from last summer, implies that he lost his gay virginity with Evel's nephew. Gallows humor often follows a high-profile death, though with the Hollywood writers' strike, there hasn't been much beyond this feature on
The Onion
. (However, there have been lots of blog commenters' jokes about Kanye encounters being a kiss of death, seeing how his mom died a few weeks before Evel.) A
Vanity Fair
teaser for an upcoming article quotes Evel on our president: "We need this Bush like we need a hole in the head. This guy made a terrible mistake going into Iraq. Why we left it up to him to make that decision is beyond me. What is the matter with the sheep in this goddamn country?!"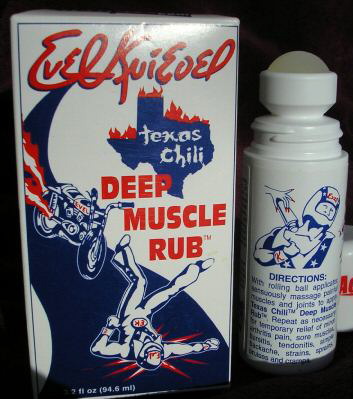 Some
seriously rare stuff
has turned up on eBay (which featured Evel in a
recent ad
), and there's now some
amazing YouTube footage
that I hadn't seen before. Incidentally, I've noticed lots of news stories on Evel's death mistakenly showing file footage of son Robbie's jumps--not surprising, considering how Robbie does essentially the same act in the same costume with the same last name.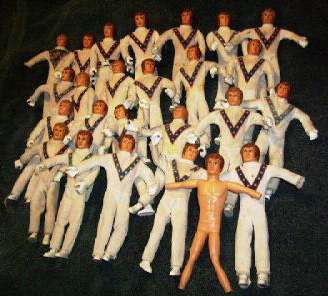 My day today was fairly uneventful.
Spanky Spangler
was on my flight from Seattle, and there was a smattering of Knievel relatives milling about at the Butte airport. I drove my rental car around town--my first time at the wheel of a
hybrid
--and ate a "wop chop" (a deep-fried pork chop served on a hamburger bun with raw onion and pickle slices) at Muzzy Feroni's Freeway Tavern. (Evel's longtime pal Muzzy will be a pallbearer tomorrow.) Tonight in 22-degree weather I saw a three-minute, low-altitude fireworks display set off after Evel's body was delivered to the Civic Center, which had me thinking, "I missed
King of the Hill
for
this
?"
Alright, more tomorrow.