It Was Thirty Years Ago Today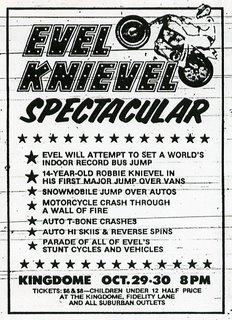 October 29, 1976: The Evel Knievel Spectacular stormed into the new Seattle Kingdome. My dad took me (and he also took the photos below). I was seven.
A year earlier, after Evel made his longest-ever jump by clearing 14 Greyhound buses outside Cincinnati, he announced he would no longer push himself any further. He wasn't kidding. In Seattle, the 38-year-old would attempt to jump only seven Greyhounds -- just half of that record distance. Even then, atop the last two buses sat a flat safety deck extending in from the landing ramp. Regardless, this jump was billed as an "attempt to set a world's indoor record bus jump" -- not an exactly daunting challenge, as no "record" of this sort had ever existed before. Like, jumping one bus inside a barn would've sealed the deal.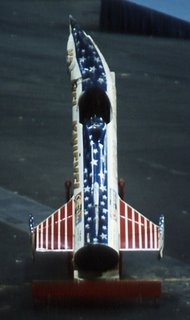 In any case, before Evel's jump, the two-and-a-half hour show featured a bunch of other stuff, such as cars T-boning each other and a guy doing snowmobile tricks -- sans snow -- on the concrete floor. A "parade of all of Evel's stunt cycles and vehicles" featured the the SkyCycle rocket that, two years earlier, Evel rode to the bottom of the Snake River Canyon.
Frank Gifford was on hand to call the action for
ABC's Wide World of Sports
, which aired the segment the next day (but not in Seattle, where the jump was blacked out because Evel would be jumping again that night). Gifford, wearing his mustard-colored network blazer and smoking a cigarette, looked bored. During a lull he walked over to chat with fans in the front row, including my dad and me.
But there weren't many fans to begin with. At best, the 64,000-seat Kingdome was roughly a quarter full (the
Seattle Times
put the attendance at 16,500;
Seattle P-I
went with 10,000). Either way, on TV the cavernous Kingdome appeared empty.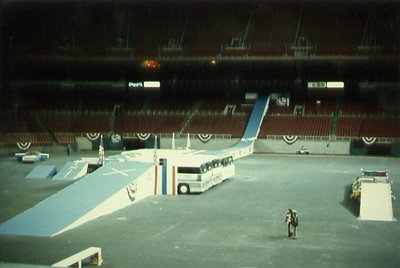 After the emcee interviewed the bus drivers and the jumbo video screen showed old Evel footage, Evel himself roared out on a wheelie. Dressed in his navy blue leathers, he then introduced his 14-year-old son Robbie, who twice jumped over five compact cars. Then father and son performed some synchronized wheelies.
Evel sailed over the buses fairly routinely, though his airborne cycle's front end dipped slightly downward. Afterwards he addressed the audience, almost apologetically: "You saw the motorcycle nosedive. I really didn't do it right... Even me, after jumping for 12 years, I even make mistakes, still now."
We did finally get to see the jump on TV a week or two later. While most of Evel's appearances on
Wide World
provided either the "thrill of victory" or the "agony of defeat," this performance did neither. Not only did Evel's Seattle jump wind up as the last of his 17
WWOS
appearances, but it was also his final performance on the network.
And the reviews were harsh. An unnamed
P-I
sportswriter wrote that Evel was "dressed like some sort of patriotic Batman," and further commented on the show: "There are more thrills to be had watching a moth circle a lamp on a Saturday night... Knievel did his best to save a show that for most of the night droned off into tedium... Had all the suspense of opening a fortune cookie."
But I didn't care. I got to see Evel, and that was plenty. I still have the program.