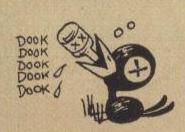 Dook Dook Dook
The Boozy Brilliance of Tony Millionaire
Tony Millionaire's amusingly snockered sensibilities, which slosh through the pages of his two recently released comic anthologies, Maakies and The Adventures of Sock Monkey, is pretty much summed up by the character Drinky Crow: "Being drunk is the best feeling in my poor world."
Millionaire's syndicated weekly strip Maakies, which began in the New York Press in 1994 (and also appears in Seattle's Stranger), follows the seafaring shenanigans of the cockeyed crow and his swacked monkey pal, Uncle Gabby. Aboard the good ship Maak, the lovable lushes often get into hot water with the vessel's humanoid captain. Additionally, the captain's sexy daughter and a prim-and-proper seagull, Phoebe, are constantly appalled by Gabby and Drinky's alcohol-fueled tomfoolery. The pickled pair also square off with hostile French alligators, sea monsters, and DT-driven hallucinations. Blood and vomit flow as freely as the hooch, and about half the strips end with monkey and crow brutally maiming one another, or more often, themselves.
The bawdy, slapstick humor is set against exquisitely rendered black-and-white line drawings of 19th-century maritime scenery -- schooners, canons, lighthouses and other period elements -- so that one can almost smell rum and gunpowder in the salty sea air.
Millionaire is not only a fantastically skilled illustrator of historic detail, he's also damn hilarious. In contrast to the comic's elegance are tiny bonus strips that appear below the main strips, featuring simply drawn, lowbrow bits of barroom (and bathroom) humor: one-liners about farts and boobs and more booze gags, as if the Bazooka Joe gang were a bunch of perverted barflies.
Lake City's Fantagraphics released a Maakies collection in September 2000, culling 260 strips from 1994 to date. (Or, if you count the bonus strips across the bottom, that's 520.) Around the same time, Dark Horse Comics of Milwaukie, Oregon published The Adventures of Sock Monkey, an 88-page volume collecting the first four issues of Millionaires Sock Monkey comic book, originally released between 1998 and 2000.
Sock Monkey is a sort of parallel-universe complement to Maakies, in which Uncle Gabby and Drinky Crow's alter-egos appear as stuffed animal toys brought to life. Gabby is the titular simian hosiery doll, and Drinky, though he still partakes, is simply named Mr. Crow. The stories, set on terra firma instead of the bounding main, are more leisurely paced, possessing lyrically flowing dialogue and a sort of fairy-tale quality. Gentle ocean breezes flow through the colonial seaside homes wherein the oddly charming vignettes unravel, which involve (among other things) a shrunken head, a wayward bat and a little gnome who lives in a grandfather clock. However, the tales still conclude with Millionaire's trademark violence.
Completists should take note of one of Millionaire's earlier strips, Batty, which regularly appeared in the killer mid-'90s baseball 'zine Murtaugh. Of course, drunken mishaps abound, here the protagonist being a crusty ballplayer. Batty is a foul-mouthed asshole who berates umpires, gets ballboys loaded, picks fights and throws up on spectators. In one strip, Batty explains why he accidentally ran the wrong way around the bases: "Ever since I took that bath I can't smell my balls anymore and I lost my sense of direction."
Millionaire, who hails from Brooklyn, has also illustrated album covers for They Might Be Giants and the Morning Shakes, as well as two Stranger covers. With Maakies adapted into a cartoon short for Saturday Night Live, perhaps he's on his way to becoming the latest animator du jour. He's already made the next essential step -- merchandising -- what with the Sock Monkey lunchbox, Sock Monkey shotglass, Sock Monkey Zippo lighter, and Sock Monkey bendie toy. It wouldn't be surprising if Millionaire's pseudonymous surname soon describes his financial status -- the man deserves it.
A toast to Tony Millionaire: Long may you drink.
Originally appeared in The Daily of the University of Washington, May 24, 2001.
Back to Top