Happy 67th, Super!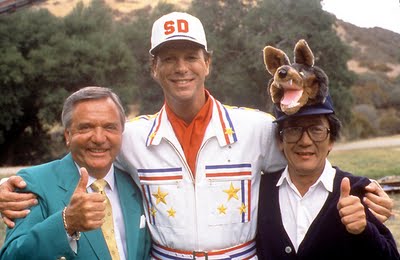 Super Dave Osborne
hits the big six-seven today. Here he is with his announcer Mike Walden and stunt coordinator Fuji Hakayito.
Hard to believe Super's still alive, what with all those stupid, bone-crushing stunts we've seen on the
Super Dave
variety show, the
Super Dave: Daredevil for Hire
cartoon series, a couple Super Dave TV specials, and the direct-to-video vehicle
The Extreme Adventures of Super Dave
. And he shows no signs of slowing down, as demonstrated on his current series,
Super Dave's Spike-Tacular
.
Here's the "Greatest Entertainer Daredevil Superstar of All Time" reading to David Letterman from his book
Super Dave's Doggie Goodnights
.
And here's some kid in a
Super Dave Halloween costume
.