The Honeymoon's Over...
...And it was great!
Some highlights from the final five days: Stockholm's mind-blowing
Vasa Museum
, housing a warship that sunk on its maiden voyage in 1638, and then in 1961 was raised from the bottom of Stockholm's harbor (tho' it was too dark for decent photos)... We stayed at the cool
Hotel Hellsten
, and took a trip up the tower atop
Stockholm City Hall
.
Then the good ship
Gabriella
brought us to Helsinki. The Viking Line cruise was plenty scenic, otherwise, we opted for a solid night's sleep over the duty-free shopping, casino gambling, and entertainment in the lounge by
the Let's Sing! Dancers
the Let's Dance! Singers.
Arriving in Finland brought my countries-I've-been-to total to 25, and Helsinki marked the northern- and easternmost points from the US that either of us had ever been. We dug the train station (above), went to some
outdoor market
, ate at
Hesburger
, and stayed at
Hotel Helka
(right across the street from
Heavy Corner
). Eliza toured the
Alvar Aalto House
while I hung out at the next-door library, reading up on
Lordi
.
We visited the
Finnish Design Museum
, though our favorite bit of Finnish design was the cool
Lasipalatsi
building. Either that, or the adorable penguin logo on
Valio Jäätelö
ice cream products. I also liked this Space Needle sticker, randomly spotted on some street...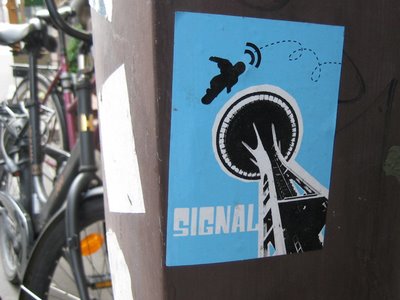 The actual Space Needle was a sight for sore eyes when we got home last night, following a brief London layover (we took the Tube to Piccadilly Circus and had dinner at
Inn the Park
). Good times, but we're glad to finally be back in town...
Skål!