Well It's 1969 Okay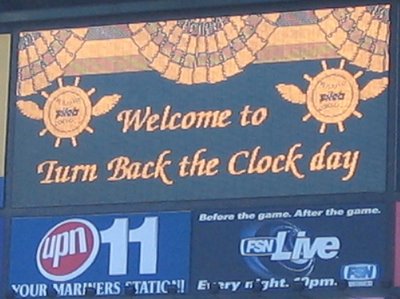 The spunky, obscure fight song "
Go, Go You Pilots
" blared through Safeco Field this afternoon as Ichiro and his teammates took the field. It was a promotional "Turn Back the Clock" game, at which the Mariners wore replica uniforms of the 1969 Seattle Pilots, while the visiting Detroit Tigers were decked out in their '69 road unis. It was cool.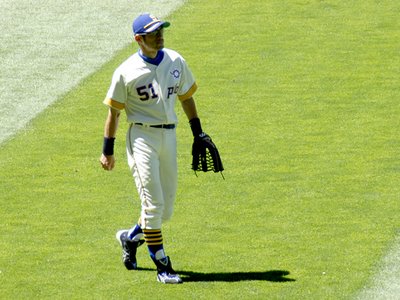 Safeco wasn't exactly transformed into
Sick's Stadium
of yore, but the first 20,000 fans received Pilots caps, and lots of other fans wore their own Pilots caps and jerseys and T-shirts. Live organ music sounded over the speakers, and samples of '60s rock tunes played before each batter's plate appearance. "Pilots" replaced "Mariners" on stadium scoreboards, as well in the stadium announcer's patter. Old Pilot players and management were introduced before the game, including Rod Belcher, the Pilots ad man who wrote "Go, Go You Pilots." Former Pilot
Tommy Davis
threw out the first pitch.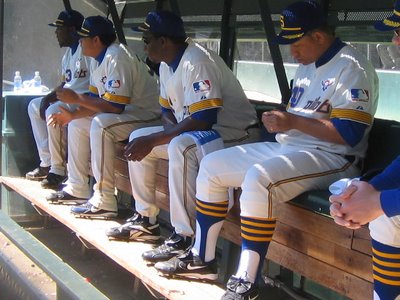 The M's have hosted TBTC games in the past, either dressing in '77-style Mariner garb or as the
Seattle Rainiers
, and in 1998 they even hosted a "Turn Ahead the Clock" game, where they and the visiting Royals dressed in bizarre, futuristic uniforms. I recall they once dressed in Pilots road uniforms at some other team's TBTC game, but I think this is the first time the Mariners ever went with a Pilots theme at home.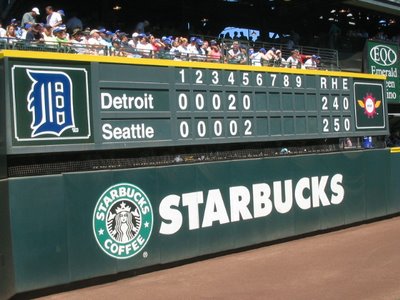 The M's -- er, the
P's
-- won the game, 3-2, and the victorious "Go, Go You Pilots" played once again as the stadium emptied. Next up is the All-Star Game.
Eliza took the awesome picture of Ichiro; I took the rest.